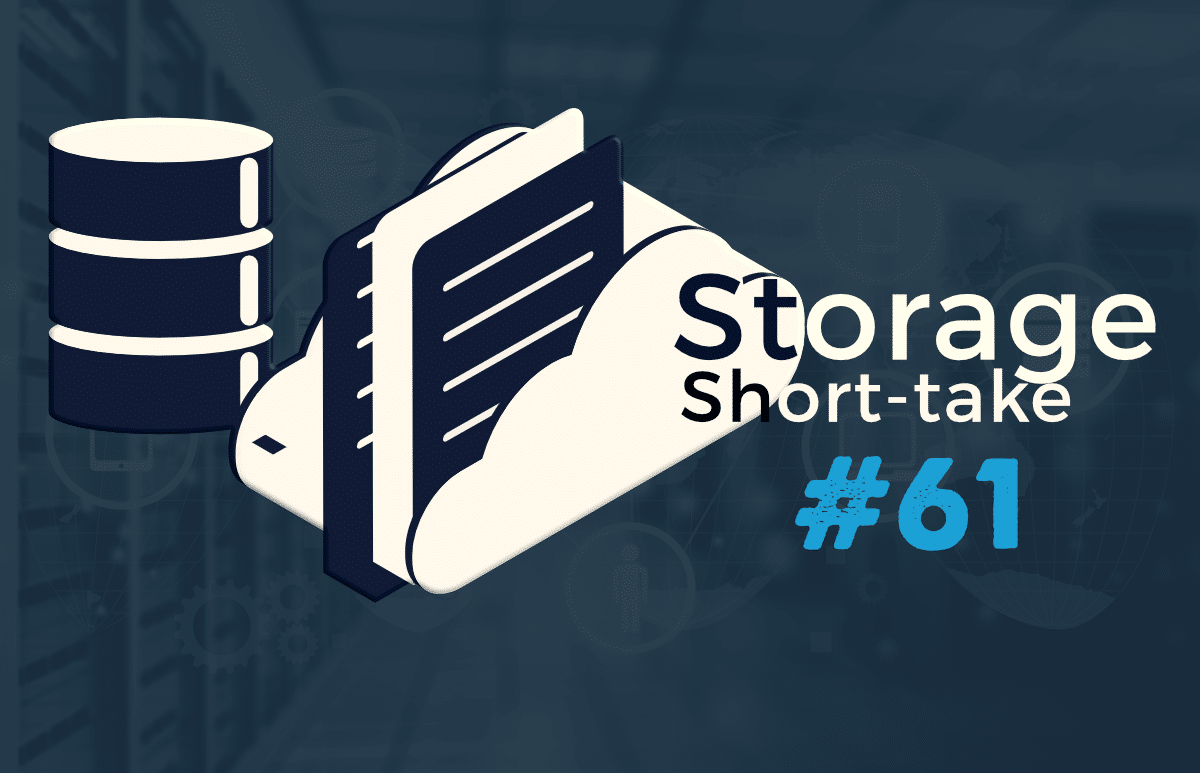 Conferences and New Tech!
There's a lot of information on new and emerging tech in this Short Take, as well as a lot of conference and summit info (some are even free!).
As always, links were live at time of publication.
Storage Media and Technology
The new PCIe 5.0 SSDs are here, but not everyone is delighted with them. To be honest, I definitely see his point.
ZDNet has brought a bit of a reality check to the evolution of HDDs. A quick back-of-the-napkin math has shown that they've beaten Moore's Law by 800%. I bought my first 540MB external hard drive in 1992 for - no lie - $1300. So, I can personally attest to this.
Wasn't sure whether to put this here or under "Storage Companies in the News," but given that it's ultimately about the media I decided it should go here. Intel and Sk Hynix presented two different methods for stacking NAND memory at the IEEE International Solid State Circuits Conference. The end goal is, of course, capacity without sacrificing speed. For me, I can't help but wonder what these two different approaches mean for Solidigm. Could it be caught in the middle?
Have you seen Andy Warfield's presentation from FAST '23? "Building and Operating a Pretty Big Storage System (My Adventures in Amazon S3)" is on Youtube, and Andy is always an engaging speaker.
Backblaze has released its 2022 SSD Edition of the Drive Stats series. Backblaze has one of the (if not the) most comprehensive testing programs around for drive integrity. I always look forward to their reports.
How do you put 30.72TB of enterprise flash storage in a single PCIe slot? StorageReview has thoughts.
The Los Alamos National Laboratory (LANL) has been a proponent of Computational Storage (CS) for a while now. I don't know anyone who had thought about using CS for spinning HDDs, though, but their use case makes a great deal of sense.
I've long maintained that SmartNICs and Computational Storage were going to converge. We're starting to see this already in a kind of proto-phase. Pure Storage is including a compression-based accelerator SmartNIC into their FlashArray//XL systems.
Planned obsolescence, or coincidence? It looks like hard drives tend to fail after a little less than 3 years.
Storage Companies in the News
Industry Associations and Standards
STA, the SCSI Trade Association, has put out a (very) short video on
why 24G SAS is called "24G SAS.
" One of the things that people can get confused about is why the numbers in the names don't 
exactly
line up with the true speed performance (we had the same problem with Fibre Channel a couple years ago), and Cameron does a great job explaining it in about a minute.
Webinars, Blogs, and Conferences
You can now register for the SNIA Compute + Memory + Storage Summit, happening April 11-12 as a virtual event. There is a lot of computational storage and CXL content, so if that's your thing you should definitely be looking into it. It's free.
The deadline to submit your proposal to the SNIA Storage Developer Conference (SDC) is June 16, 2023.
MEMCON is happening March 28-29 at the Computer History Museum in Mountain View, CA. If you've never been to the museum, it's well-worth your time. It's a great place for geeks and history nerds (I'm both). You can get 15% off your attendance with the code SNIA15.
StorageReview has a podcast with ScaleFlux about Computational Storage. I'm actually impressed with some of the key questions they ask about scale, pitfalls, and where the computation actually occur.
Check out the Server and Storage track for the upcoming OCP Summit in Prague. It'll happen April 19-20. There's still time to get a discount for attendance.
The second SmartNIC Summit is going to be held June 13-15, 2023 in San Jose. Call for Papers is open until March 24. You can even download the 2022 Proceedings and get a sample of the quality before you decide to pull the trigger.
The Storage Field Day 25 is going to be happening March 22-23. If you've not attended before, it's a free, virtual, deep-dive technical extravaganza where companies discuss their technology in white-board fashion. Trust me when I say this is not a pitch. The attendees in the room do not truck with that kind of nonsense. So far, I see that StorPool, CyberSense, and AWS are going to be presenting.
SNIA and the SODA Foundation will have a webinar on April 13 to discuss the Top 12 Trends in Data and Cloud Storage, highlighting the findings from the SODA Foundation research.
Ray Lucchesi has published his Part 2 Blog on AWS Data Exchange vs. Data Banks. If you don't remember Part 1, that's okay - it was back in 2018. Essentially Ray talks about the marketplace of data exchanges, and how AWS is "a step on the path of data monetization for anyone."
It's probably hard for those who were born after 1990 to understand just how much of an atomic bomb Sam Kinison was on the comedy scene. He died at the woefully early age of 38 by a drunk driver, but the impact he made cannot be understated.
His first nationwide TV appearance:
His second appearance on Letterman a few months later: