This is a public relations release from Illuminosi, Inc.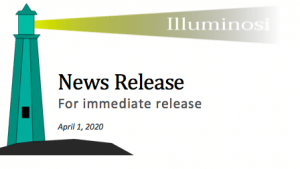 KINGSTON, Washington, April 1, 2020: Illuminosi Incorporated, a leader in storage technologies has announced the availability of Spin-Safe, a revolutionary software product to improve the data reliability of hard drive (HDD) data.
"We have found that by improving the rotational balance of magnetic media, we are able to reduce read retries and reduce the error rate of media writes as well", stated Tom Friend (Twitter, LinkedIn), the CEO and founder of Illuminosi, Inc. "By encoding data in a proprietary format, we are able to distribute the weight of the incoming data more evenly around the media, and thus reduce media vibration. This improves the signal-to-noise ratio and reduces the need to time consuming error correction operations."
While most consumers have moved to SSDs for their laptops and home desktop machines, the data center world still relies on HDDs to provide long term storage. Improving the access time and reliability of this storage has been the "holy grail" of the storage industry for decades. The rising use of network streaming services has caused a big rise in uncompressible data, which adds to the weight of these disk drives and "Spin-Safe is the answer to that problem", Mr. Friend enthusiastically added.
The proprietary data encoding scheme is called Rotationally Enabled Data, and is internally referred to by the acronym "RottEn Data". Careful design of this important new technology has shown other benefits of Spin-Safe include an improvement in power consumption due to the reduced need for ECC and read retries. "All these details are very important to the cloud vendors", stated Tom Coughlin, the President of Coughlin Associates, a widely respected digital storage analyst. "Anything that can be done to reduce TCO and improve performance is a big deal to companies like Google and Azure."
Illuminosi expects it will take a year to productize this revolutionary software. "While we have a great POC running in our lab, completing the design to the quality standards of our customers will take time. Expect more news on this next April", Friend stated.
For more information, you can contact Illuminosi, Inc. at the following addresses.
Main Contact Address:
24864 Norman Road NE
Kingston, WA 98346
PR Contact:
Greta Shepherd
Illuminosi Public Relations
800-555-1212
[Update: For more information, please check the tags associated with this post]