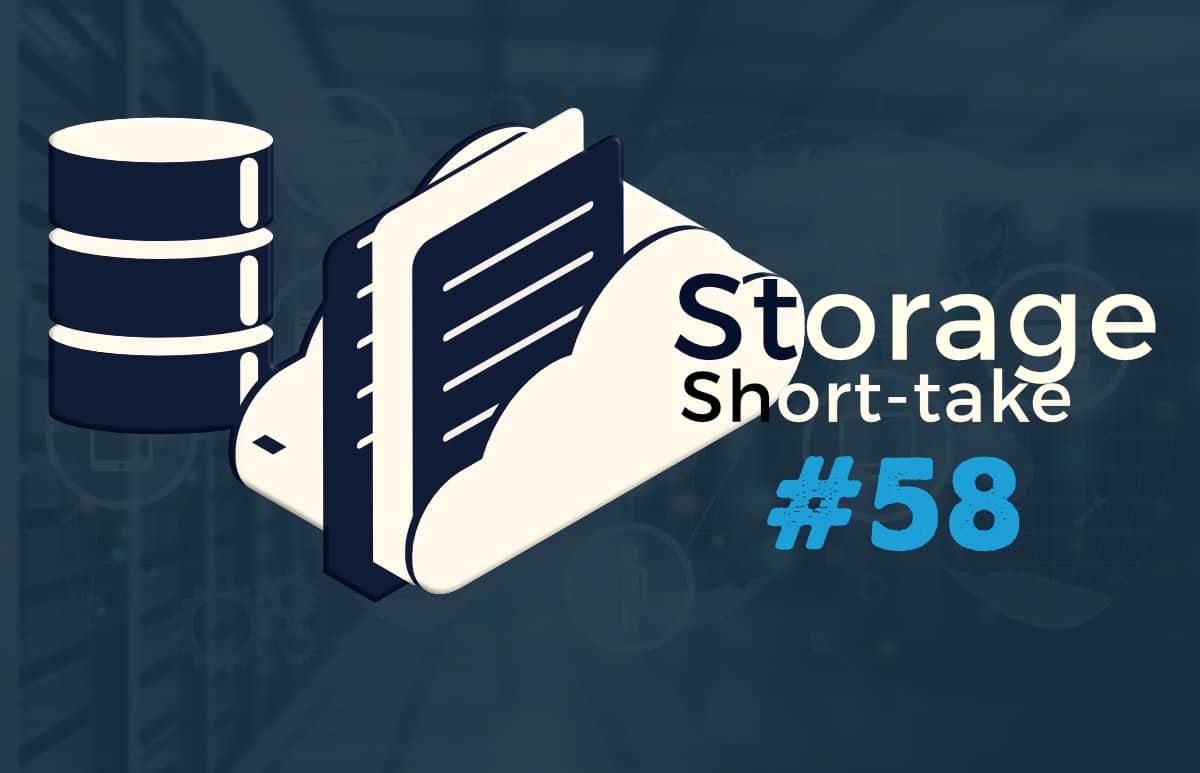 Another One For The Books
A slight delay from the normal cadence, but here it is at last.
As always, links were live at the time of publication.
Storage Media and Technology
According to Trendfocus, HDD shipments almost halved in 2022. This is probably due to the improved parity in costs between SSDs and HDDs per device (rather than $/TB). It's also probably due to the fact that the buying cycle may be at a low (there was a massive buy in the consumer market during the lockdowns, and the lifecycle of HDDs are longer than 3 years). We shall see what happens in 2023, though, to see whether or not this is a normal (if albeit amplified) lull in the market.
As my good friend Stephen Bates commented on this, "Never is a strong statement." As for me, I'm on the fence about whether or not SSDs will never replace HDDs. I think one of the things that HDDs have going for it is not only the $/TB (which is a big advantage), but also the data protection and protocol development that surround them (while there aren't any available on the market, NVMe now works with HDDs for instance). On the other hand, SSDs are one capacity innovation away from making that cost argument moot.
Timothy Prickett Morgan asks an excellent question that is probably more salient than ever - what do we do when compute and memory stop getting cheaper?
Western Digital enters into the dual-actuator HDD space, getting ready to give Seagate a run for its money. The specs are interesting, because WD claims that this new drive can beat (slightly) SATA SSDs.
Tom's Hardware has a report on Intel Optane's "Last Gasp," by discussing the 300-series module to be released in conjunction with Sapphire Rapids.
Do you have a Samsung 990 Pro SSD? Are you having issues with your drive health?
I am not a fan of Chrome and will only install it on my systems if it's absolutely, positively, 100% necessary (I dislike any application that "phones home" when it's not in use and all the appropriate checkboxes are specifically selected). Now it looks like Chrome doesn't want you to save your files over a network as well.
Storage Companies in the News
We start this section with an excellent article by Chris Mellor. It looks like the Fungible acquisition isn't as clear-cut as it may have appeared on the outset. Chris expands on the initial Blocks & Files article that describes the emerging lawsuit. As of this writing, the court has not yet responded to the suit, but as he points out, the presented evidence is - even in the world of VC investment -significant.
One of the reasons why I love my Synology products (I have a lot of them) is because when they work, they work for a long time. (I've had issues with the 4XXSlim series and DS2XX series, but the multi-bay chassis are rock-solid). My very first Synology DS1511+ still works like a champ - yes, that 11 stands for 2011. A dozen years later, it's still going strong. However, Synology is EOL'ing their DSM software that runs on that older machine, and are informing users that about how to deal with the transition. I'll probably write a much longer blog about this, come to think of it.
2022 was a very productive year for LightBits.
I confess this news did shock me. Western Digital announced that it will receive nearly a billion dollars ($900M, to be exact) investment from Apollo Global Management and Elliott Management Corp.
NetApp joins the list of major tech companies announcing layoffs. For them, it's 8% of the workforce (or just under a thousand people).
Looking for a job as a CMO? Commvault may be looking for you!
Industry Associations and Standards
JEDEC, the standards body that works on memory, appears to be preparing to adopt the CAMM module format as the next memory standard (supplanting the SODIMM laptop memory standard).
The SNIA Preview, complete with PDFs and Videos, is now posted. It's a survey of the projects and work streams that are under way - including Privacy, Security, Computational Storage, SDXI, Green Storage, DNA Data Storage, and much more.
Webinars, Blogs, Podcasts, and Conferences
A short and sweet conversation about the NVMe/PCIe protocol specification in NVMe 2.0 by John Geldman, NVM Express Board member. It comes with its own blog at no additional charge!
Flash Memory Summit is back in Santa Clara Convention Center in 2023 - August 8-10.
I didn't see this until it was after the submission closing deadline, but the 14th annual Non-Volatile Memories Workshop (NVMW) will be held on March 13-14, 2023 at the University of California, San Diego. Unfortunately, information about past conferences was very difficult to find.
Ray Lucchessi has an excellent breakdown (as always) of MLOps (Machine Learning Operations) groups. It really shines in an area that many articles often fail - a good description of what the storage requirements are before discussing its efficacy.
The Call for Submissions is now open for the SNIA Compute + Memory + Storage Summit. Submission deadline is February 24.
After 30 years in the business, W. Curtis Preston ("Mr. Backup") rightfully gets an interview about what he's seen and experienced. Well worth a read.
Nowadays, most people don't know or haven't heard of Redd Foxx. It's a shame.