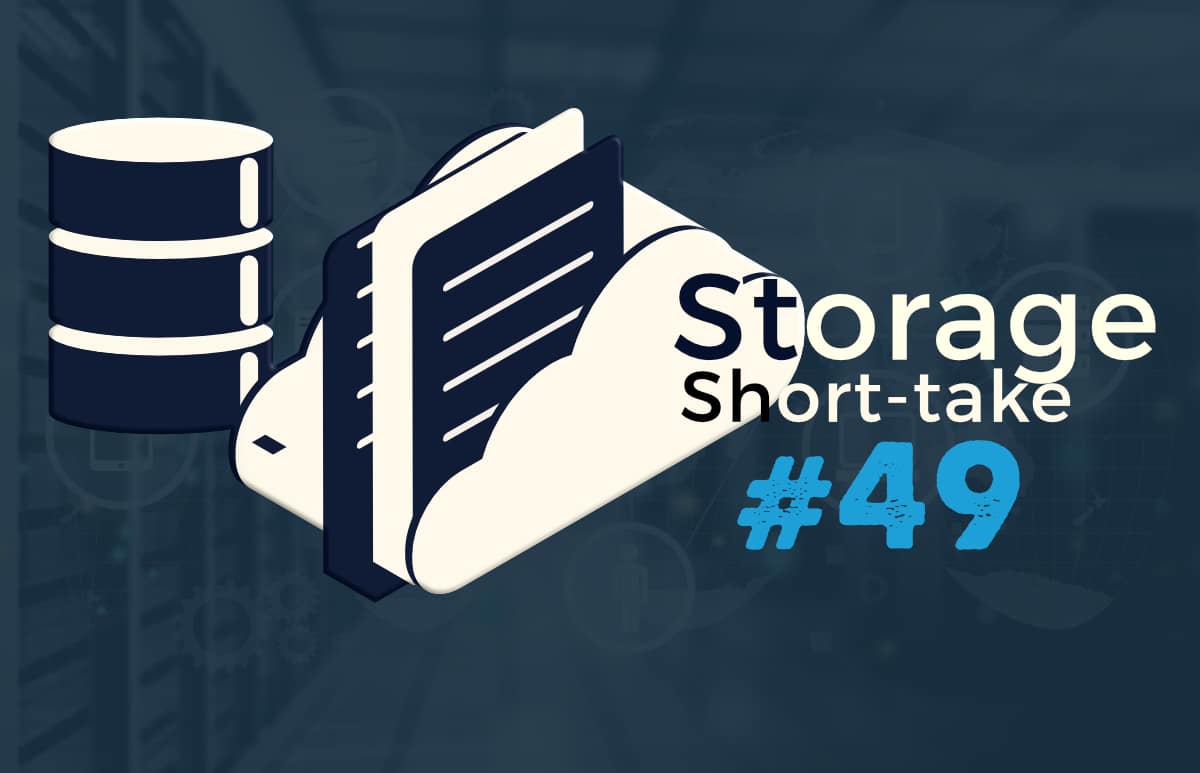 Miss me?
I took a much-needed vacation and so this short take is about a week late. Of course, it just so happens to be the week where a lot of stuff happens, so I'll try to catch up!
As always, links were live at the time of publication.
Storage Media and Technology
Western Digital has a blog on heatsinks and SSDs. For those who are beginners in storage, it's not a bad piece to get into some of the "whatizit" questions and there isn't too much marketing involved.
Techradar has its latest Best HDDs of 2022 published.
I'm always a bit leery of sponsored research, but every once in a while the ends justify the means. Acronis has released it's mid-year cyberthreats report, which goes into detail about how ransomware continues to be the number one threat to large- and medium-sized businesses.
Long-time readers of the Storage Short Take series will probably note that there has been a lot more articles on memory that have crept into the items. There's a reason for that. Memory and Storage have been on a collision course for several years now, if only in the protocol and specification discussions to start with. That's because - as TheNextPlatform points out - "the expanding CXL memory hierarchy is inevitable."
What you see in these memory expansion and hierarchies topics is just the tip of the iceberg. There are many problems that memory implementations are facing that have been addressed in storage for nearly 40 years, and the cross-pollination of knowledge is being transferred so that the lines between memory and "storage" (which is more than just permanence and capacity) are being obliterated.
Storage Companies in the News
Pliops has raised $100M in Series D funding. If you're nor familiar with the company, they've done pretty interesting work with Key-Value data stores as well as something they call an "Extreme Data Processor" (XDP). It's a form of a computational storage processor, if you're following along with the SNIA models.
I'm still getting my head wrapped around the whole "investment" thing, so outside of the obvious breakdown of the terminology, I'm still trying to figure out what a "pre-seed round" really means. Regardless, a company called W3 Storage Lab has raised a $3M pre-seed round. The description is interesting - using blockchain and "next-generation" cyfs:// protocols to "practically eliminate latency in file retrieval."[Update: A colleague of mine forwarded me a nifty page on what the difference is between pre-seed and seed funding rounds!]
It's been a rough month for startups. Fungible (DPU startup) has laid off "a fair number of people."
Liqid, the memory-pooling company, has also had a bit of a shakeup at the executive level as well.
MinIO has taken time away from their feud with Nutanix to announce that they're releasing an Intel-optimized "high-performance, Kubernetes-native, S3-compatible object store." Details are vague in any PR, but it appears that they take advantage of Intel's Advanced Vector Extensions 512 (Intel AVX-512) single-instruction acceleration (SIMD). How they use that isn't described, but I'm very interested to learn more.
Finally! VMware has added a single NVMe flash tier to vSAN. This is something that they've been talking about doing for, what, six years now? The problem came because the capacity tier of NVMe devices was often faster than the SSDs approved for the caching tier. Instead of simply changing the HCL, though, they rearchitected the architecture to be much more flexible, and it does look very interesting. [Update: Pete Koehler wrote me after publication to correct me (hey, I'm human): "I wanted to offer one clarifying point. The introduction of the new architecture had nothing to do with our HCL. You can learn about the reasons why we made the change in the material we started putting out at the time of the announcement. Anyway, just wanted to offer a little clarity."]
Industry Associations and Standards
Fresh on the heels of CXL annexing OpenCAPI, the organization has signed a MOU agreement with JEDEC to "advance DRAM and Persistent Memory Technology." Lest it sound like I'm negative on this, I'm not. In fact, this has been a major gap IMO and I think this is exactly what needs to be done.
Just in case you missed it last time, the CXL 3.0 interface has been announced. To me, the speed doubling is boring (speeds are always increasing). What's really interesting to me is the concept of "Flexible Fabrics."
SNIA has just released the 1.0 version of the Computational Storage Architecture and Programming model into the public. If you want to learn more about it in plain English there is a blog with the key contributors.
The Green Grid and SNIA Green Storage Initiative released a white paper on the Energy-Efficient Data Center Storage. It's an update that includes new data analysis based on several years' reports and cautions about using an idle-only metric for a system's efficiency.
Webinars, Blogs, Podcasts, and Conferences
First up, SNIA's Storage Developer Conference is September 12-15 in Fremont, CA. (As of this writing, I am intending to be there. By sheer luck I'm not actually speaking this time around 🙂 ). If you can attend, I highly recommend that you make an effort to do so. There are some true storage powerhouses on the agenda. If you work for a SNIA member company you can get a $300 discount.
In the past, I was a big fan of StorageNewsletter. However, lately they have come across as petulant and just about libelous when they whined about being ignored by FMS. I've pointed out already why this was completely disingenuous, and then SN doubled down and made themselves look like an even bigger ass.
Speaking of conferences, as of now I am planning on attending the SNIA Storage Developer Conference. It'll be the first time in an airport or on an airplane in 2.5 years. I'm actually quite stressed about it, but if it weren't for the fact that this is the 25th anniversary (and, well, I'm the Chair), I likely wouldn't be going.
Chris Mellor is a guest on the StorageUnpacked podcast where they review the Flash Memory Summit. Funny, nothing in there are deceptive practices cough Storage Newsletter cough.
If you're curios about xPUs and the solutions that employ them, you'll want to check out the "xPU Deployment and Solutions Deep Dive," the 3rd in the series on xPUs put on by the SNIA Networking Storage Forum.
I'm not sure how I missed this, but The Register has apparently run an Open Storage Summit. I haven't taken a look at any of the content yet, so I don't know how good it was.
Curious about the future state of SATA? Jim Handy, "the SSD guy", has a few thoughts on the matter. He makes some good points about the maturity of the SATA interface and - for those who understand storage - reliability is often a major factor in decision-making.
Chin-Fah Heoh asks, "Should you bash your storage competitor?" To many of us, the answer should be obvious. At this point I take most negative marketing as mere projection of a company's own limitations. Chin-Fah takes it further, though, and his blog is well worth the read.
Does "real" Hybrid Cloud Storage exist? The On-Premise IT Roundtable with Stephen Foskett, Chris Evans, Enrico Signoretty, and Molly Presley tackle the question in this entertaining podcast.
Greybeards on Storage have Tom Coughlin (frequent Forbes contributor) on their latest podcast to discuss FMS 2022.
Perhaps more valuable for residents on the eastern side of the Atlantic puddle, the International Conference on Digital Preservation will be held in Glasgow, September 12-16, 2022.
This is just a PSA for anyone interested in storage-related work and openings that I happen to chance across. Please do not contact me directly about these positions or candidates. 
AWS is hiring a GM for storage. Kind of odd that they would advertise this kind of thing; must be for disclosure purposes.
Google is hiring a Senior Director of Product Management, Storage.
AMD is hiring a RAID Storage Windows Software System Design Engineer. 
Storage Personnel:
My good friend Gabe Champan is exactly the kind of person you want to have on your storage team. He's been a Field CTO, Director of Marketing, SE, and is one of the best Geek-to-English people out there.
ArchitectingIT has released an ebook on "Essential Features of Container-Native Storage 2022" for $695.00. It's a market analysis of vendors and, from the description to the table of contents, it's got some basic description of how it works but is their own version of the Gartner Magic Quadrant (and, even more likely, far more accurate). (Non-affiliate link).
Amazing images and shoots show the incredible hyperrealism art of Young-Sung Kim, the Korean artist who creates paintings that look like photos and real living creatures [more artworks: https://t.co/Q8bPmNE5LO] pic.twitter.com/qs5VOagRlr

— Massimo (@Rainmaker1973) August 31, 2022