Why monetize?
I struggled with this for a long time. Anyone who knows me understands that I am a die-hard individualist and capitalist, so you might think that I would have tried monetizing the content I produce a lot earlier. So why didn't I do it? And why now?
It was only recently that I started realizing just how much work I've done. As I've written about a number of technology topics – both here and elsewhere – I realized that much of the content that I have created has become extremely useful for a lot of people. My post on the Synology DNS Error – a troubleshooting blog – gets over 100 hits a day. The comments in that post alone show just how valuable it is to a lot of people.
My blogs and webinars on Storage Basics, too, are consistent with their hits. So, I've been pleased to see that others have been finding it useful. After all, what good is it to do the work if nobody uses it?
Supply and Demand
Okay, so I have a supply. I seem to be pretty good at breaking things down for people to get the basics. There also is a demand, as the unique visitors to the site seem to have shown. But at what price point?
That was the sticking place for me – I just wasn't convinced that going through all the effort of monetizing was going to be worth it if no one actually is willing to pay for it. After all, there's no shortage of videos about all sorts of topics on YouTube and elsewhere. My good friend Stephen Foskett rules the universe, as far as I'm concerned, with content-rich Data Center technology with his Tech Field Days. Another good friend Greg Schultz is a sheer monster when it comes to storage. Seriously, the man is amazing. I highly doubt that there's anything that I could do that hasn't already been covered by Greg or Stephen in some fashion or another.
It's quite intimidating, really.
So, I kept plugging away, doing my own thing and figuring that people would consume it for free, but not find it worth sponsoring.
Success Breeds Success – Hopefully
It came to pass, however, that some of the work that I've done has created an interest for people to consume more. People began asking – both inside and outside of Cisco – "what else have you done?"
That's when I began collating much of the work that I've done over the past few years, ultimately creating the Storage Bibliography that's here on this site. In the process, I was a bit stunned to see just how much work I've done. At last count, I've done over 30 hours of webinars, seminars, presentations, and podcasts (both publicly available and behind private firewalls), and dozens upon dozens of blogs and articles.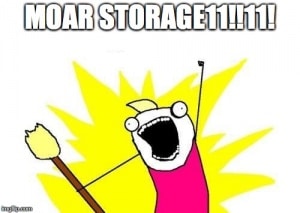 The most popular, not surprisingly, were the "back to basics" sessions. I created a webinar series for SNIA called "Everything You Wanted To Know About Storage But Were Too Proud To Ask" and – as of this writing – there are 6 webinars that have over 5,000 viewers with a 4.6/5 star rating. This is on top of the other webinars that cover more advanced topics as well. I also created a new series for the Fibre Channel Industry Association which only has 3 webinars so far, but have a stunning 4.8/5 star overall review.
This is highly encouraging, and has motivated me to do more. A lot more.
I want to write more Synology posts to help people learn how to do backups correctly. I want to do more tests of btrfs and zfs with FreeNAS. I want to write up reviews of data center and consumer storage solutions. But beyond the reviews, I want to continue with this education source.
None of these ideas are related to my day job, and so it's unreasonable for me to expect my employer to cover the costs (whether it by my time or equipment). Since I have no desire to cheat anyone, I cannot steal time from them to give to anyone else.
Trouble, is it costs money. Equipment, software – and time that my employer doesn't cover – has cost me thousands out of my own pocket. Fortunately I have been given review pieces of hardware and software (thank you, Synology, NooBaa, Intel, Samsung, and others) that have helped in a ways that go beyond my capacity for words. Even so, there are only so many times when you can go to that well.
So, there is content, there is motivation, now all I need is the money.
No Need To Applaud, Just Throw Money
I'm fully aware that the best I can hope for (realistically) is "loose change" for a month or so from people, if anything at all. Nevertheless, I'm working under the principle that if I don't make it possible, then I definitely won't be successful. So, we'll give it a shot, and see if anyone actually wants to get content. If things go well, the goal is to create more and more content that is higher and higher quality, causing a spiral upwards. More patrons – more high quality content.
The nature of the content is going to be storage related. Provided that I can get the right backing, I have some ideas for content that may be worth sponsoring:
Livestreams with Storage gurus and experts (and Patrons!)
How-To Videos, complete with step-by-step instructions
Interviews with major authors and industry experts
Technology reviews
And, of course, blogs and videos similar to what I've already been creating
Of course, all of this requires more resources than I currently have. The sweat equity can only get you so far.
How To Sponsor
It seems to me that the easiest thing to do to sponsor content is go to my new Patreon page (I've prepopulated some of the posts with articles from this site) and click the big, red "Become a Patron" button. I'll be updating and modifying the rewards tiers and goals over time, depending upon how successful (or not) it is.
In any case, regardless of whether or not you decide to sponsor, thank you for investing your time to read my work and share, forward, or promote it to those who find it useful. I shall continue to endeavor to produce great material. 🙂