Well, I'm off to Australia to give a couple of presentations at CiscoLive in Australia, so before I do I wanted to make sure that this got "out there."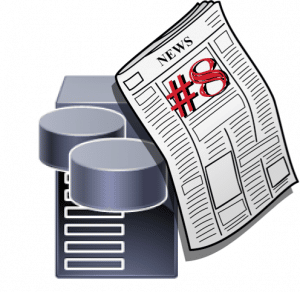 Let's get started with the Storage Short Take #8!

Storage Media
IDC predicts EMEA storage growth to grow from 9.5 Zettabytes to more than 48ZB by 2025. From the summary: "The Europe, the Middle East, and Africa (EMEA) storage is growing slightly slower than the overall Global Datasphere (a 2018-2025 CAGR of 26.1% versus 27.2%, respectively). The EMEA storage will increase from 9.5ZB in 2018 to 48.3ZB in 2025, or from 28.8% to 27.6% of the WW storage, respectively. Nearly one third will be driven by growth of video surveillance, signals from IoT devices, metadata, and entertainment. For example, user-created and user-consumed online video like YouTube is one of the top 5 fastest-growing segments of data creation." [emphasis added]
Anandtech has released its list of Best SSDs for Q1 2019.
A good article on the rise and decline of HDD sales from 1976 to 2018 (link does not last very long).
Samsung has stopped producing Blu-Ray players for the US.
According to The Register, Western Digital is preparing for the end of SAS and SATA drives in favor of NVMe
Storage Companies in the News
Pure Storage has officially released support of NVMe-oF on their Flash Array. Cody Hosterman has a really good blog about it.
Speaking of Pure Storage, they were recently awarded nine patents:
Cloud assist for storage, proactive management of plurality of storage arrays in multi-array, accumulating application-level statistics in storage, migrating data between volumes using virtual copy operation, reducing number of storage devices in storage system, DR at high reliability in storage cluster, ensuring fair utilization of system resources using workload based, time-independent scheduling, page writes for TLC flash memory, transactional commits with hardware assists in remote memory.
The Development Bank of Japan considering a massive multibillion dollar investment in Toshiba Memory?
NetApp released it's Fiscal 3Q19 Results, and storage was up 2%.
HPE announced 1Q19 results, and storage was up 3%. The Register has its unique take, of course.
Storage Field Day 18 happened this week, with presentations from Cohesity, Datera, IBM, NetApp, StorPool, VAST Data, Weka.io, and Western Digital.
Industry Associations and Standards
Not sure where else to put this, but it looks like Fibre Channel is getting some love.
The SD Association has published a white paper on SD Express Memory Cards with PCIe and NVMe Interfaces.
Swordfish v.1.0.7.a is now a SNIA Technical Position.
Speaking of SNIA, the Storage Networking Certification Program (SNCP) exam is no longer available. It has been replaced with the SNIA Certified Information Architect (SCIA). Exams are now available.
A couple of NVM Express blogs that might be interesting:
The Fibre Channel Industry Association (FCIA) has announced the 2019 Board of Directors and Elected Officers
Webinars and Conferences
On the Fibre Channel front, FCIA followed up with its phenomenal FICON101 webinar on February 20th, FICON 201. If you are at all curious about FICON, these are the definitive tutorials to get you started. By the way, I highly recommend that you start with FICON 101. I can guarantee that unless you are a FICON guru already, 201 will be a hard pill to swallow without the first one. [In case you're curious about whether or not it's worth the time, it got a 4.9/5 rating.]
On February 26th, What's New in Container Storage brought back Keith Hudgins from Docker and Alex McDonald, the Chair of the SNIA CSTI to discuss the constantly changing container landscape. With new standards emerging every few months, you'll learn what's new, what to pay attention to, and how to get involved in the container community. If you don't know Keith, he was a guest speaker at SNIA's most popular webinar to date: Intro to Containers, Container Storage Challenges and Docker.
I'll be presenting a NVMe and NVMe over Fabrics Deep Dive (BRKDCN-2494; Wednesday, Mar 6, 2:30-4pm) and The Networking Impact of NVMe over Fabrics (BRKDCN-2729; Thursday, Mar 7, 12:50-2:20p) at CiscoLive-Melbourne in March. They are presented in sequence, kind of like a "Part 1" and "Part 2." I will also be reprising both of these for CiscoLive-US in San Diego in June.
The first NVM Express, Inc. hosted webcast of the year, NVMe™/TCP: What You Need to Know About the Specification, will take a deep dive into the new NVMe/TCP specification. NVMe Board Member Peter Onufryk and the lead author of the specification Sagi Grimberg, will teach developers how to seamlessly integrate the new specification into their NVMe-oF solutions. The webcast will cover topics such as wire protocol, optional enhancements like inline data integrity and online Transport Layer Security. (You may remember that Sagi and I presented on the What NVMe/TCP means for Networked Storage last month, too.)
Also, the NVM Express Membership Meeting is occurring on March 19-20, 2019.
Looking ahead, the 5th SNIA Storage Developer Conference in India returns on May 23-24, 2019.
You can follow NVM Express,  SNIA's Networking Storage Forum and FCIA on Twitter, too.
Synology Security News
Please see earlier Storage Short Takes for additional Synology advisories (#7, #6, #5, #4).
Important Severity
Affected: Note Station. A vulnerability allows remote attackers to inject arbitrary web script or HTML via a susceptible version of Note Station.
Status: Resolved.
Solution: Upgrade to 2.5.3-0863 or above.
Moderate Severity
Affected: Drupal 8. A vulnerability allows remote attackers to execute arbitrary code via a susceptible version of Drupal 8.
Status: Ongoing.
Solution: None yet.
Some field types do not properly sanitize data from non-form sources in Drupal 8.5.x before 8.5.11 and Drupal 8.6.x before 8.6.10. This can lead to arbitrary PHP code execution in some cases. A site is only affected by this if one of the following conditions is met: The site has the Drupal 8 core RESTful Web Services (rest) module enabled and allows PATCH or POST requests, or the site has another web services module enabled, like JSON:API in Drupal 8, or Services or RESTful Web Services in Drupal 7. (Note: The Drupal 7 Services module itself does not require an update at this time, but you should apply other contributed updates associated with this advisory if Services is in use.) Please see Drupal's security advisory for more information.
References:
Bonus Round
If you have a GPS device, you may want to update it. Soon.
Oh, and my good friend Greg Schultz has written another Data Center Storage book worth reading: